The Milburn Family
It's the Millburn's! Jason and Megan Milburn, along with their children, Madison (13) and Max (10) live in Upper Clarenton. With the help of Ron Kendle and RE/MAX, they sold their home and moved to New Albany in 2010. They absolutely love the community and their friends. "Upper Clarenton is unlike any neighborhood we've ever known. Everyone is like family and we have so much fun together. There are so many organized holiday events for kids and adults and plenty of food trucks. New Albany is the perfect place to raise a family."
Madison is a 7th grader at New Albany and plays softball for the Middle School. Max is a 4th grader at New Albany and plays baseball on the 10u Maroon travel team.  Jason has worked for Abercrombie & Fitch as a Marketing/Procurement Sr. Manager for 5 years. He is also the head coach for the 10u Maroon Baseball Team and the assistant coach for the Middle School softball team. Megan, an IT Project Manager, is currently working as a contractor for Cardinal Health. She is highly involved in the community and helps coordinate family events in the neighborhood. "During the pandemic, we've both been working from home, with our dog, Gracie. It's been quite an adjustment and a lot of "together time", but we make it work. We take lots of walks, so you may have seen us!"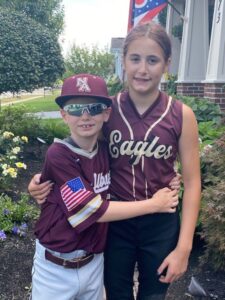 Let us know if you have something special to share in New Albany at: NALnow.com
---
NAL Sold
6999 New Albany Links Dr. $580,000 2/19/2021 29
6919 Joysmith Circle $340,000 2/12/2021 4
7037 Dean Farm Road $497,900 1/29/2021 3
7220 Talanth Place $615,000 1/29/2021 13
5810 Jersey Drive $395,000 1/28/2021 25
7262 New Albany Links Dr. $600,000 1/19/2021 5
6900 Kindler Drive $565,500 1/6/2021 6
7013 Cunningham Drive $425,000 12/28/2020 22
7227 New Albany Links Dr. $605,000 11/30/2020 13
7145 Upper Clarenton $530,000 11/23/2020 2
6912 Harlan Square $529,000 11/19/2020 1
7670 Skarlocken Green $555,000 11/13/2020 4
5652 Jersey Drive $365,000 11/12/2020 3
*Thinking about listing this spring? Call Ron for a free confidential analysis of your home.
---

Recipe
Pear Raspberry Pistachio Salad W/ Creamy Poppy Seed Dressing
Recipe submitted by: Tiffany Kroeger
This salad is a favorite, great for spring or summer gatherings!
Ingredients:
Salad-
Romaine: Washed & Roughly Chopped
Raspberries
Pears: You do not need to peel the pear before using.
Thinly slice or dice before adding in.
Pistachios: Salted & Shelled
Feta Cheese: Crumbled
Dressing-
3/4 cup mayo
1/4 cup milk
1/4 cup sugar
1/4 cup white wine vinegar
2 tablespoons poppy seeds
1/2 teaspoon dry mustard
pinch of salt
Instructions:
Whisk: In a small bowl, mix together mayonnaise, milk, sugar, cider vinegar, poppy seeds, dry mustard and salt. Set aside.
*Will save in refrigerator for up to a week.
Toss: In a large bowl add tossed romaine, raspberries, pears, pistachios, and feta cheese. Add the poppy seed dressing and carefully toss to coat all of the ingredients. Best when served immediately.
Have a yummy recipe you'd like to share? Submit to NALnow.com to have your recipe featured in an upcoming newsletter!
---

Braxton
Braxton Cardale Jones is a 5 year old, 90 pound Goldendoodle named after the 2015 Buckeye quarterbacks who led us to a National Championship!! His favorite activity is runing through his invisible fence chasing after the kids when they run out of the yard. He is a lovable goofball who craves attention and taking walks around the neighborhood.
Would you like to have your pet featured in our quarterly newsletter? Please submit your pet's photo (jpg. or png.), name, breed (if applicable), and anything else you'd like to celebrate about your furry friend to: NALnow.com. Your pet may be in our next issue!