by Ron Kendle
You've fought through the cold and snow (thus far) of a chilly Central Ohio winter. Yes, you're a hardy one, you are! Your home has enjoyed the celebration of a Buckeye National Championship (O-H!) but perhaps you have plans to list your house for sale this spring.
What can you do – right now – to get ready for the big push come spring?
New Albany, Ohio Houses for Sale
Westerville, Ohio Houses for Sale
Dublin, Ohio Houses for Sale
There's going to be plenty of competition under headings like those listed above. Our local real estate market in the Columbus, Ohio area is doing great, and tons of people list their house for sale in the spring, so now is the time to make sure your house will stand out and hold an edge.
Home Improvement
Obviously, you don't have the time to begin a major home improvement project, but you can certainly jump into smaller ideas that have been on your mind. It's time to grab some paint and spruce up those rooms that need it. BE OBJECTIVE!
If a hunch tells you that something inside your home needs work and could turn off a potential buyer, then your gut is probably right. Go ahead and commit to improving the problem. Whatever financial investment you make is almost always worth it and enables you to get the asking price for a house for sale in Westerville that you'd like.
Interior Systems
Inspect your interior systems like air conditioning. Scan the windows and basement. If any work needs done by professionals, you will certainly save money by having them do it now – in the winter – before these service companies begin to get a rash of spring calls for work.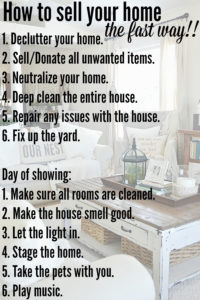 Find a Good Real Estate Agent, Right Now
Certainly, we're a bit biased and would love to have you contact a member of the Kendle Team. We're pretty good at what we do. But regardless of whether you bring on the Kendle Team as your New Albany real estate agents or Westerville Realtors, we want you to find a solid, smart agent. It's incredibly helpful to the success of your plans if an experienced, trustworthy Columbus, Ohio real estate agent begins guiding you through the entire process now. It really will take so much stress away from you.
Research the Columbus, Ohio Real Estate Market
Setting the correct, initial asking price for your home is crucial. To do that, you need to understand what's going on in both the Columbus, Ohio housing market, and in your local neighborhoods, be they in Dublin, Worthington, Westerville, or New Albany.
Declutter Your House
Alas, potential buyers could not care less about your personality – in fact, houses with knick-knacks and an abundance of the owner's "personality" constantly "turn off" people who visit your home for a showing. That has been our experience as Realtors and a consistent part of any negative feedback we hear from people we show houses to. Buyers want to be able to visualize your house as theirs, and too much of "you" makes that more difficult. To get ready to list a house for sale in the spring, begin to put away the collections, walls of family pictures, etc. and begin to make your home a bit more "Spartan".
There are so many other things to consider as you prepare to list a house for sale in New Albany or Westerville this spring. Please contact us and we'll give you some basic pointers to get on the right track and explain what we do to make your life easier and your home sale successful.
How to Sell a House in Ohio
Contact us for more information on how we may help. Reach me, Ron Kendle at 614-325-6295 or Ron@KendleTeam.com.
Ron Kendle & The Kendle Team are part of the ReMax Consultant Group.